Hello, friends. 2019 was a mix of both good and bad, of transitions, and new beginnings. I have not managed to read much in 2019, but I am greeting 2020 with a much better, calmer mindset and I am now ready to read all the things! Therefore, a reading challenge.
I've been nourishing this calmer state of mind in a new house that I have moved into a little while ago in November. And it is a house with windows and lots of sunlight. A house with beautiful wooden floors and enough space for two computers desks so that my partner and I could game side by side and even enough space for a reading nook. I have wanted a reading nook for so long that I can hardly believe it is real. I have already spent a considerable amount of time utilizing it to dig into The Testaments, the sequel to The Handmaid's Tale. It is on my Reading Challenge list below, along with a few books that I plan to read in 2020.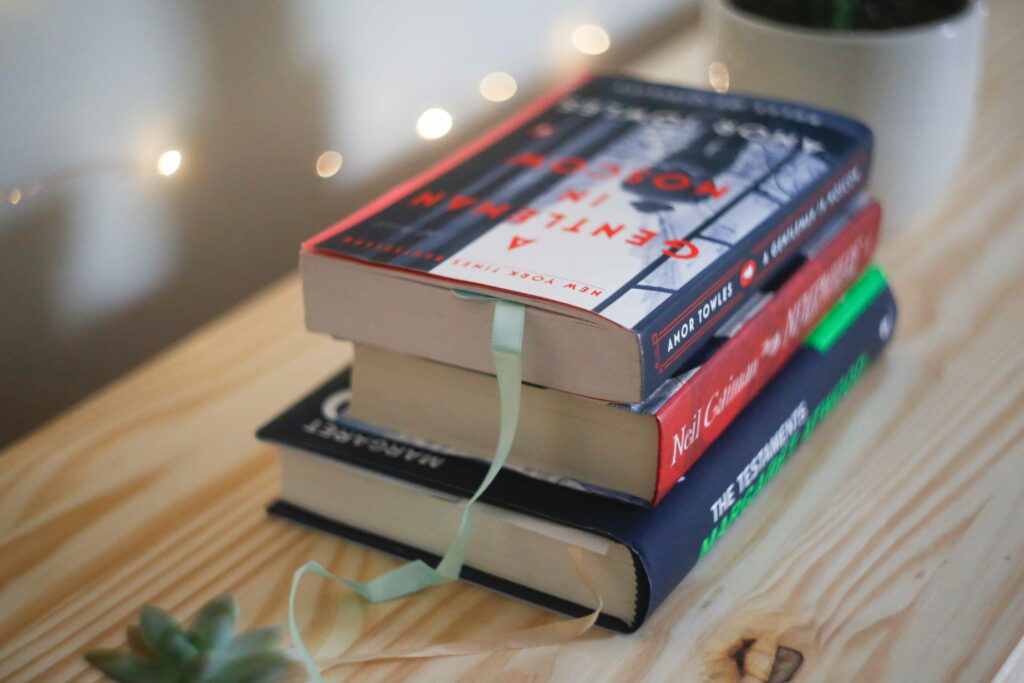 This is by no means a definitive list—more of a collection of books that I already have in my possession and foresee myself reading soon, and also a few titles that I've been wanting to read for a while and plan to acquire this year.
I also have some aspirations to read more Ursula K. Le Guin this year, and might start with the first book in the Earthsea Cycle (I have read a few books in the Hainish cycle, but am completely unfamiliar with her fantasy work).
As I mentioned, I have already started reading The Testaments, am about 1/3 into it and so far it perfectly lives up to the love I have for The Handmaid's Tale which is one of my favorite books ever. I just love Margaret Atwood's writing and the way it seamlessly breaks down all of my barriers and makes me feel a myriad of emotions through its beautifully crafted first person narrative.
The Testaments, and largely The Handmaid's Tale, are completely different beasts from the Hulu show, and I have heard that some people who love the show are disappointed with this sequel, but I am happy to say I do not belong to that category of people (or at least not yet). I also found that the show began to suffer in the storytelling department during its latest season, and however much I love the cinematography and June's journey as a whole, I just need more from it than simply Elizabeth Moss' intense stares.
The second book on the list is a title I've been eyeing for a while from the author who wrote Rules of Civility: a brilliant, lavish piece of historical fiction set in 1930s NYC and featuring an amazing female protagonist. A Gentleman in Moscow is another historical novel from this author, and while I am preemptively excited for this, I also have some concerns as it is set in Russia and as a Russian-American it is sometimes weird to read novels or watch movies from the perspective of someone who wasn't born there or lived there. It is not impossible for me to love these kind of works (it has happened before with Catherynne M. Valente's Deathless which is not only set in Russia but is also steeped heavily in Slavic mythology) but the bar is set high for sure. We shall see.
Neverwhere by Neil Gaiman! How long have I had this book on my to-read list and physically in my possession? Probably a few years at this point. I am not sure why I can't muster up the excitement and the motivation to read it when I know I will like it as I have never read a Neil Gaiman book that I disliked (well, I had some trouble getting through Good Omens but only because it was an audiobook and the narrator's accent was throwing me off! I loved the show). But I am definitely planning to read this very soon.
The Fifth Season has been recommended to me over and over by everyone and I'm very much looking forward to reading a dystopian sci-fi book written by a woman. All the female writers, please.
Circe has been heavily recommended as well, and besides, I love The Song of Achilles beyond measure.
This is How You Lose the Time War is a recommendation I got from Be The Serpent Podcast which is a fannish/bookish podcast that has made my to-read list explode in hundreds of books and it is both wonderful and terrible at the same time because I feel so inspired to read, but don't have enough hours in the day to even make a dent in my TBR pile.
Jeff VanderMeer became one of my favorite authors after the spectacular Southern Reach Trilogy of his that I read last year (the movie Annihilation is based on the first book in that trilogy). Just like the movie (though different in many ways from it as well), the books are transcendental, bizarre works of science-fiction with a dash of supernatural horror. It is not a genre I thought I would ever like but the whole series, and especially the first book Annihilation, have completely blown me away with its imaginative world-building, and re-defined the science-fiction genre for me. It's been so long since I was interested enough to read a whole series of something. My latest forays into sci-fi series ended with me either loving the first book and then being disappointed with the second (I'm looking at you Imperial Radch) or liking the first book but not quite enough to wade through another one (sorry, The Machineries of Empire). The fact that the Southern Reach Trilogy has held my attention through three books, no less, has made me want to explore other works by Jeff VanderMeer and Borne, another dystopian sci-fi trilogy, seems just perfect.
As for Blood of Elves, I have been seduced into starting the Witcher series after marathoning the show on Netflix, and after having heard some high praises sang in its direction. I have a bit of a time with high-fantasy works, but I am interested enough to give it a shot.
On Earth We're Briefly Gorgeous is a novel written by a college classmate of mine (we have shared one course, but I will never forget him for his lovely poetry and a rather unique name). From the reviews, I have gathered that it is as poetic as the title suggest, and am all for poetic literary fiction. I used to read a lot more lit fic during my college days, and I miss it.
Why We Sleep has been on my list for quite a while, and hopefully I can get to it this year, along with a few other non-fiction books I have in my TBR pile.
And below are a few pictures from the new house, including tealights + reading nook, and plants.