How is everyone faring in the current apocalypse? It has caught us completely and utterly off-guard. We left for our trip on March 5th, and there were only a few cases in NYC at the time, and then ten days later, we had to cut our trip short because there were thousands of cases, the city was taking stricter measures of containment, and more than anything, we'd feared that air travel would be restricted soon and we didn't want to risk not being able to come back home. In retrospect, we probably could have taken the original flight home, but the anxiety of being away as everything was unfolding was quite a lot.
On top of everything, we did not have any food at home (nor much toilet paper, if you must know). Thankfully, the local bodegas and supermarkets around our house had some stock, so once we foraged for our food, we were ready to weather the apocalypse. It hasn't been all bad staying home, for someone like myself and my partner—we're both incorrigible introverts, and are probably more fortunate than others facing the current crises, and yet…It has been a daily challenge dealing with the self-isolation & social distancing that has now stretched into week three. I miss my friends. I miss my mom, even though we talk and FaceTime often. I miss the simple act of going to a coffee shop. But that is a conversation for another time, I suppose.
Despite the rushed flight back home, we had a great time on our trip, and there were so many parts of it that we loved: meeting our Discord friends, the breathtaking Pacific Coast, LA food trucks, jet skiing on the river oasis in Nevada, endless driving through so much beautiful wilderness, National Parks! (all 3 of them), our self-guided Breaking Bad Tour in Albuquerque (rather timely for the currently airing Better Call Saul S5 which is so, so very good), an all around great time in Boulder, Colorado, and the food! So much food. Here are more details and the photos:
Point Dume, California
I had mistakenly thought that there is no one out there who loves the Pacific Coast as much as I do. Which is already silly, because, surely lots of people do! So many people live out in California, and all along the Oregon & Washington coast. I love it so much I must have gone back five or six times. And despite our loaded itinerary for the trip, I was the MOST excited about visiting Point Dume, a beach state park, just a few miles north of Los Angeles. I talked about it to my partner incessantly (his response was, "you just want lots of pretty Instagram photos, don't you", which is accurate, but ALSO, I genuinely do love the Pacific Coast). To my utter surprise, my partner was completely awed by Point Dume the second we arrived. He kept saying, "this is so beautiful" and did not complain ONCE about hiking up a cliff. It was suppose to be a rainy day, but ended up being perfectly cool and sunny instead. We saw seals lounging on the rocks just a little off the coast. We spotted giant whales dip in and out of the water in the distance, and dolphins closer to the shore. The towering cliffs, the crashing waves, the abundance of color with hues of blue waves and yellow flowers—all of it combined is PURE MAGIC.
We can't wait to go back. And I am exceedingly satisfied to know that I definitely am not the only one absolutely in love with the Pacific Coast.
The rest of our time in Los Angeles was lovely as well! We met up with our friend Brandon, who is part of our Discord community and who also happens to be our favorite person ever. Brandon accompanied us on all sorts of adventures across town with flair and chill that can only be described as "very LA". We visited The Getty Villa (highly recommended if you're into Ancient Greek arts, but also for the view, and the exceptionally Instagrammable fountain & balcony), we ventured out to The Griffith Observatory at sunset, and at some point enjoyed an evening at an outdoor cafe sipping craft cider and eating tacos. All this and more coming in even more detail in a vlog. That I will put together. At some point this century.
Joshua Tree National Park
Now, as I mentioned, our itinerary was pretty packed, but the desert calls out to me, so we HAD to stop by Joshua Tree National Park on our way to Laughlin, NV where we were to meet the rest of our Discord friends. We visited the Cholla Cactus Garden to get a fix of the desert and to take some Mad Max style photos. I would love to come back one day and camp overnight and perhaps do some more astrophotography (you can view my first attempt at photographing the night sky at The Big Bend National Park here).
Laughlin, Nevada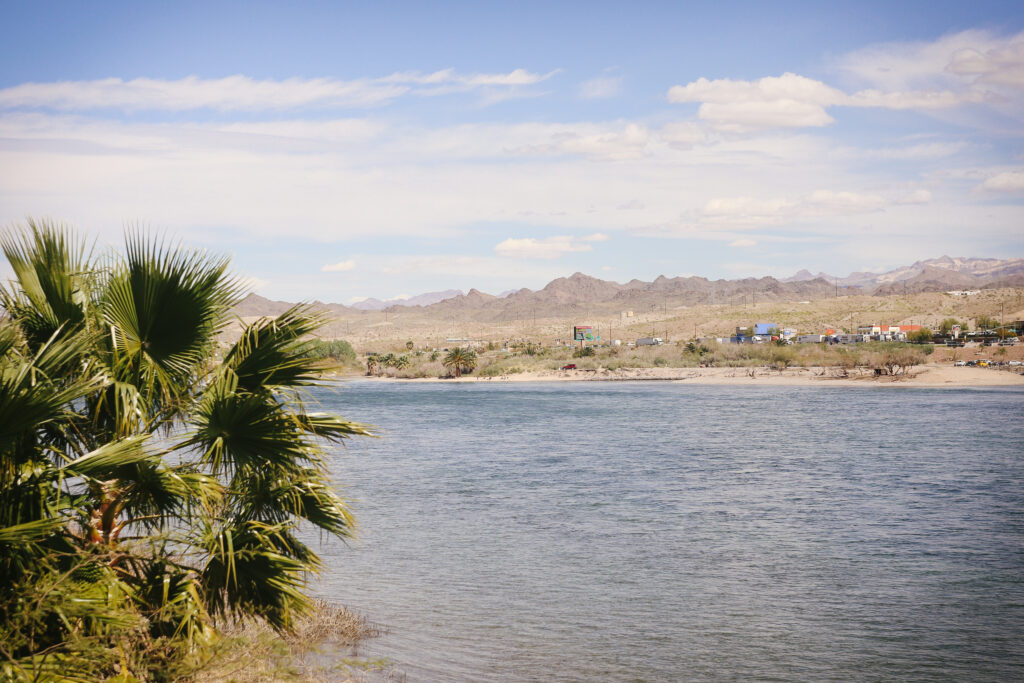 On to the next stop—Laughlin, Nevada—a casino town situated on a river oasis in the desert. Now, that makes it sound somewhat enticing, but don't be fooled, there is practically no reason to come here unless you're us, and somehow Laughlin serves that perfect function of a being a midway point in your road trip as well as a great meeting spot for your internet friends who are coming from all different directions. But if you want to gamble and party, go to Vegas, and skip Vegas' poor cousin entirely. Laughlin has three or four hotels/casinos, each one worse for wear than the other one, no nightlife to speak of, unless you're about eighty years old and want to karaoke (we did dub it, very affectionately, "geriatric karaoke"), and the food choices are limited to Saltgrass Steakhouse and…that's it. That's your option. Oh, we did also have In-n-Out Burger, because it is practically tradition if you're on the West Coast, but even that was somehow disappointing.
None of that stopped from having a smashing time with our amazing friends though. We had drinks by the pool and the jacuzzi, enjoyed some great Strawberry Moscow Mules (at Saltgrass Steakhouse because where else?), played Cards Against Humanity in our hotel rooms, went jet skiing on the river for an obscenely cheap price. I am looking forward to seeing all of our dork friends again, hopefully next time in New York City!
At least the weather was wonderful, and there were palm trees, and I got to channel some desert resort vibes as evidenced by this Instagram photo.
Stay tuned for Part II of the road trip which includes details and photos from The Petrified Forest National Park, Santa Fe, NM, and The Great Sand Dunes National Park.