I hoped today might be a good day. Hope is a dangerous thing.

Colonel MacKenzie, 1917
Enter week 7 of quarantine/social-distancing/self-isolation. I haven't learned a new language, or started a Podcast, nor have I devised plans for world domination yet. I have, however, worked a little, have done yoga, and once baked an apple pie in a rice cooker, which is a pretty big accomplishment, if you ask me. I have been re-organizing and re-decorating our living space to make our home even cozier (need all the cozy, considering there is no end in sight to this).
I have also been playing Animal Crossing, and feeling happier for the first time in what feels like a million years.
What are you doing to pass the time at home?
One little project my partner and I began when we first self-isolated back in March is put together a Movie List consisting of all the movies we have talked of watching, but never got around to. We loved going to the movies, but it was hard to just sit down and watch a movie at home, as life got in the way, or we chose to watch shows instead (so many great series to marathon, ugh, the choices!)
But finding ourselves suddenly stuck at home means we have no excuses not to watch all the movies we have wanted to see or show each other. Hence, the list! We made some great headway. Below are the ones we have watched already with information on where to watch. 1 star for the ones I liked, 2 stars for the ones I loved, and no star for just being a movie that exists, but one that I have no particular feelings about.
Movies Watched
Can You Ever Forgive Me (HBO)
Farewell (Prime) ++
The Irishman (Netflix)
Parasite (Prime)
Midsommar (Prime) +
Bohemian Rhapsody (HBO) +
1917 (Prime rental) ++
The Invisible Man (Prime rental)++
Interstellar (Hulu)++
The Platform (Netflix)
Marriage Story (Netflix) +
Return (Mubi)
A Quiet Place (Hulu)+
It's Not The Cancer That Kills Them. It's The Fear.

Lu Jian, Farewell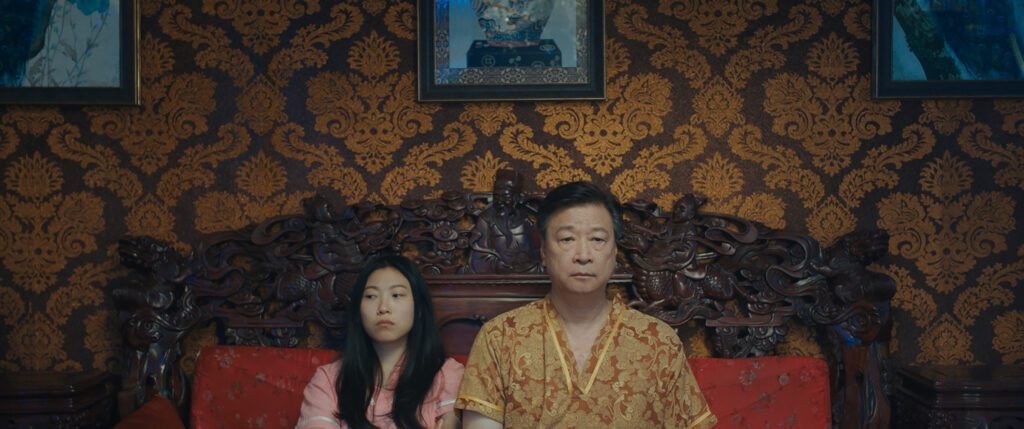 My favorite movie watched so far is undeniably Farewell. I cried buckets of tears watching it, thinking of my own grandmother, the moments of happiness I shared with her and the utter grief I felt after she passed. Farewell is a beautifully shot movie, incredibly well directed and acted. Awkwafina is a gem.
Also, perhaps an unpopular opinion, but Farewell >>>>> Parasite. I'm happy that Parasite got so much recognition at the Oscars, and I'm all for Korean and other International movies making it big, but I was personally not affected by Parasite in any shape or form, and find Bong Jong-ho's Snowpiercer, for example, leagues more entertaining at that.
Another favorite is 1917! I'm quite wary of war movies, but 1917 deserves all the hype, and maybe some extra heaping of hype and praise. Every scene of this movie is aesthetic perfection distilled and captured on film.
I highly recommend The Invisible Man, especially if, like me, you miss Elisabeth Moss from your screen. The use of sound effects, and the overall cinematography, is superb, and well beyond what you would expect from a thriller. Elisabeth Moss is majestic to behold.
There's nothing left for you to take. You've already taken it all.

Cecilia, The Invisible Man
Midsommar is an absolutely off-the-rails, one of a kind horror movie. I will never be the same after watching it, and I'm not entirely sure if that's a good thing? Don't get me wrong, it is an amazing movie, beautiful to behold and contemplate, however the trigger warnings for intense experiences of grief is something to consider, and living through a pandemic was not entirely the greatest time for me to experience this movie.
So we just gonna ignore the bear then?

Simon, Midsommar
Movies To Watch
Whiplash
The King (Netflix)
The Danish Girl (Netflix)
Beanpole
Her Smell (HBO)
Us (HBO)
The Two Popes (Netflix)
The Theory Of Everything (Netflix)
Get Out
Dunkirk
The Handmaiden (Prime)
Book Smart (Hulu)
Locke (Netflix)
Portrait of a Lady on Fire (Prime)
The Shawshank Redemption (Netflix)
I am most excited to watch Portrait of a Lady on Fire since I've heard so many great things (historical lesbians!), and I am also stoked to show The Handmaiden to partner, which I have seen and loved (more historical lesbians!) He has never seen Dunkirk which is another one of those "I don't watch war movies, but this is GORGEOUS and has an amazing cast so it's all worth it." The Shawshank Redemption is for me . I am deeply ashamed that I have never seen this classic, but I am ready to remedy that.